Founded in 2007, the MANHATTAN WIND ENSEMBLE allows for professional and semi-
professional musicians in the New York City area to perform and expand the wind band
literature, and engage with audiences. Throughout its history, the ensemble has
commissioned works from various composers, featured international guest conductors, and
performed several world premieres.
Under the direction of its Music Director, Sarah Fernandez, the Manhattan Wind Ensemble
rehearses weekly and holds concerts in the Fall, Winter, and Spring of each year.
Manhattan Wind Ensemble, Inc. is a 501(c)(3) not-for-profit corporation. 
Musical Director Sarah Fernandez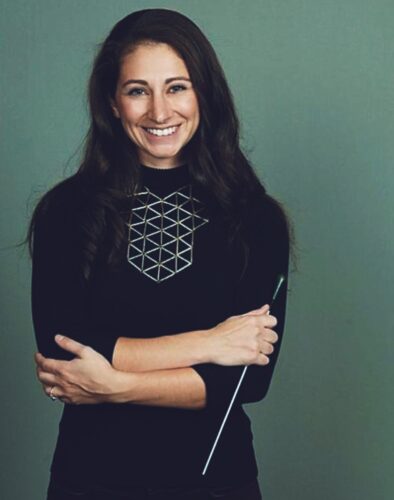 Sarah M. Fernández has been teaching music through a wide variety of mediums for over a
decade. A native of the California Central Valley, she currently lives on Long Island and has
been teaching preK-12 general music and chorus there since 2012. Presently, Fernandez is
Choral Director and General Music Teacher at Forest Road Elementary School and Shaw
Avenue Elementary School in Valley Stream UFSD #30 in Nassau County. She is an active
pianist, clarinetist, conductor and arranger in the greater New York City area and currently
serves as Chairperson for the NMEA Division II Chorus, a position held since 2018.
Fernandez received her Bachelor of Music degree in Music Education at the University of
the Pacific Conservatory of Music, Stockton, California and her Master of Arts degree in
Music Education at Teachers College at Columbia University. She began her musical studies
on piano and clarinet. Upon entering her senior year in high school, it was at the Pacific
Music Camp where she found a love of conducting, and the rest is history. Fernandez made
her first appearance on the podium in Stockton, California, guest conducting the Pacific
Symphony Orchestra, the University of the Pacific Wind Ensemble, student recitals and
composition premieres during her undergraduate study. This was followed by a 3-year
period as Guest Conductor then Assistant Director of the Columbia University Wind
Ensemble. For many summers, Fernandez worked with the Columbia Summer Winds as
Associate Conductor with colleagues Dr. Andy Pease and Dr. William Tonissen as well as
collaborated with composers such as Michael Markowski and Jim Territo.
Aside from public school education, she serves as the Music Director and Artistic Director
of the Manhattan Wind Ensemble. Fernandez is also Music Director and Conductor of the
Band of Long Island, a community concert band based in central Long Island, NY. Both
ensembles actively promote and support new works for wind band via commissions and
consortiums as well as collaborations with guest conductors and composers.
Her conducting teachers include Dr. Eric Hammer, Dr. Nicholas Waldvogel, Dino Anagnost,
and Virginia Allen. Further study includes symposiums with distinguished conductors Jerry
Junkin, Richard Floyd, Mallory Thompson, Emily Threinen, Kevin Sedatole, and Robert
Halseth. She also holds active memberships in College Band Directors National Association
(CBDNA), New York State School Music Association (NYSSMA), Nassau Music Educators
Association (NMEA), the Association of Concert Bands (ACB), and the National Association
for Music Education (NAfME).
About the Board of Directors and Management of MWE
The Board of Directors of Manhattan Wind Ensemble, Inc. is responsible for organizing and
managing the operating budget and long-term goals of the ensemble. The ensemble is an
entirely volunteer organization, funded by dues paid by each member of the ensemble,
generous corporate donorship, and through public funds from Creative Engagement, a
grant supported by the New York City Department of Cultural Affairs in partnership with
the City Council and the New York State Council on the Arts, as administered by the Lower
Manhattan Cultural Council.
The 2022-2023 Board of Directors
Executive Board
Jonathan J. Illari, President
Michael Jones, Treasurer
Erin Coffey, Secretary
Directors
Dawn Barrett, Personnel Director
Nikhil Baliga
Milan Powell
Dahlia Weinger
Cory Zhou
Joining the Manhattan Wind Ensemble
The MWE welcomes a variety of interested and talented individuals to join the ensemble.
We are interested in auditioning top musicians and to speaking with those interested in
joining our Board or any of our ad hoc committees. For auditions or Board inquiries, please
contact info@manhattanwindensemble.com.
MWE Logo
The new MWE logo, adopted by the group in 2018, was created by Cindy Seunarine.